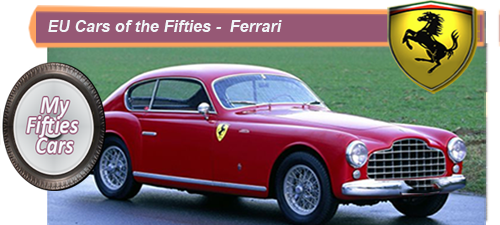 Enzo Ferrari was amongst the most enigmatic and talented figures to grace the European automobile industry in the Twentieth century.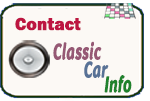 Ferrari enjoyed a magnificent career as a racing car driver, and team manager for Alfa Romeo,  developing a string of racing cars over a period spanning three decades on their behalf.
At the height of his fame during the late Forties, as the result of continued pressure from his followers, Enzo Ferrari turned some of his talents to the production of sports cars, making no secret that this new venture would be short-lived and was only a means to continue to finance his motor racing activities.
Seventy
years later Ferrari has grown to become one of the world's most important producers of quality sports cars and coupes.
Ferrari began his career in the automobile industry immediately after the end of World War One, working as a test driver for a small touring car production plant in Turin. 
In 1919 Enzo was given a chance to become a racing driver for the Milan-based Costruzioni Meccaniche Nazionali, (C.M.N) making his competitive debut in the 1919 Parma-Poggio di Berceto hill climb race, where he finished a commendable fourth.
After a s
tring of minor successes during the first few months of 1920, Enzo, just 21, Enzo captured the attention of Nicola Romeo owner of Alfa Romeo, who was always on the lookout for talented young drivers to join his racing team.
From that point onwards began a collaboration that saw Ferrari grow with the company, eventually becoming head of the all-conquering Alfa Corse racing division.

In 1929, under the patronage of Alfa Corse Ferrari founded the Scuderia Ferrari racing team, based in the city of Modena, where he was born. 
Ferrari's concept for the Scuderia Ferrari team was to build a stable of owner-drivers who needed cooperation and support to help them finance their motor racing activities.
Ferrari's idea proved to be an outstanding success, with the  Scuderia Ferrari eventually amalgamating to form a track team of their own. From then onwards, it was only a matter of time before the "Scuderia"  became the racing section for  Alfa Romeo.
  The deve
lopment of Scuderia Ferrari was also a factor in Enzo's decision to wind down his racing activities, taking part in his final event in August 1931, just a few months before the birth of his firstborn son Alfredo, better known under his nickname of  "Dino".
With less time spent behind the wheel, Enzo Ferrari  found himself becoming increasingly  involved with design and development at  Alfa Romeo, playing  a significant part in the development of the 158 "Alfetta," released in 1938 
The 158 "Alfetta"  soon proved to be an outstanding success winning many races some of them on the international circuit.
In 1939, at the age of forty,  and been involved with Alfa Romeo for almost half his life, Enzo Ferrari decided that the time was right for fresh challenges, leaving to form his own racing team.
To this day it remains classified whether this parting of the ways was amicable or not.
What is
known is that under the terms of him leaving Alfa Romeo, Ferrari was obliged to sign a provision that he would not use the "Ferrari "  name in any connection to the business of motor racing or the production of racing cars- with this agreement binding for a minimum of four years.
With his hands tied Ferrari named his new venture Auto Avio Costruzioni  (AAV),  which he based in  Modena, in the former headquarters of Scuderia.
Initially, AAV  operated only as machine tool manufacturers as Enzo Ferrari, a man of honor, waited the agreed time before  Alfa Romeo's provision on producing cars bearing his name remained in force.


As soon as the ban was lifted in the early 1940s, Ferrari moved his plant to the town of Maranello,  just 18 km from Modena.
To ease the transition, Ferrari operated Scuderia Ferrari as well as AAV from the same premises, although as his motor racing activities rapidly gained pace, Enzo gradually phased out his machine tooling activities. 
It was in the considerably larger plant at Maranello, that Enzo Ferrari began to embrace the possibilities of producing touring as well as racing cars.
The very first Ferrari production car was the Tipo 1255, which also featured in sports car races,  from May 1947, which was later fitted with a larger engine and marketed as the Type 166 Sport, basically a coupe version of Tippo35.
Ferrari turned to Carrozzeria Touring of Turin, at that time the most prestigious designer and manufacturer car bodies design to produce a  coupe body chassis for Type 166.
Ferrari had worked with Carrozzeria Touring during his time with Alfa Romeo, and went on to form a long-term working relationship with them, continuing even after  he acquired Carrozzeria Scaglietti, a coachbuilding concern, also based in Maranello
From then onwards until the mid-Fifties, to meet public demand, Ferrari designed and produced versions of their open-topped sports and racing cars.
Ferrari gave prospective customers freedom of choice in many mechanical and equipment details for these expensive prestige cars.

Ferrari finally standardised his touring car production with the introduction of the 250 Gran Turismo developed from the 250 Europa.
That was all to change with the arrival of the 250GT, first unveiled at the Paris Salon in October 1954.  The 250GTs, powered by a V12 engine,  boasted a highly attractively slim Coupe frame designed for Ferrari by Pininfarina was unveiled as a two-door coupe, although a soft top version was available.
The 250 GT was to be the first of a series of two-door coupes, which Ferrari marketed as  Berlinettas, a loose translation of the terminology of  'little sedan' or coupe in Italian.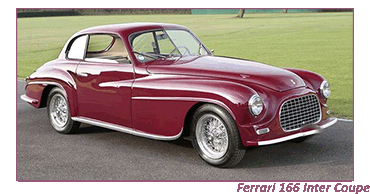 Following the unprecedented demand for Berlinettas, by the end of the Fifties, Ferrari began to test the market for a new concept,  2+2 tourers which could act as sort of "family' saloon'.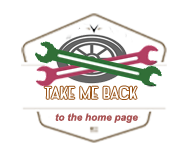 In truth, the  Berlinettas were better suited for sporting use, with anyone obliged to travel any distance in the back seat finding the journey getting increasingly uncomfortable the longer the trip progressed.
Despite that possible drawback, Ferrari discovered a high demand for 2+2 and began to farm out chassis construction to some of the top Italian specialist car body makers, giving them almost entire" carte blanche" to build 2+2 vehicles on a  Ferrari chassis.
Got a question, a comment, a suggestion or an offer??? - FEEL FREE TO CONTACT US ANYTIME!!
All the history of the great UK and European cars of the Fifties and Sixties and the people that produced them as well as how to acquire, restore and maintain a classic car.