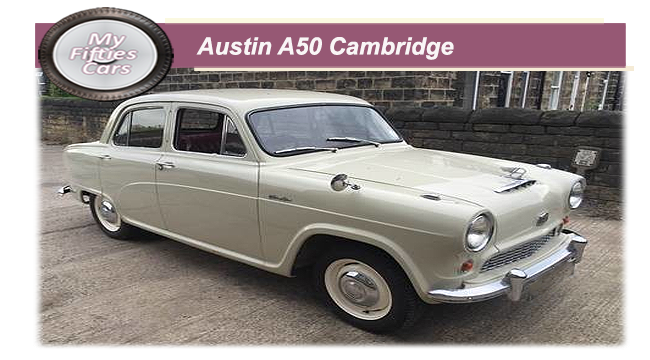 The Austin A50 Cambridge was introduced in conjunction with its sister car the A40 Cambridge in 1954 and was ostensibly no more than a larger-engined, more-powerful version of the A40.

Sharing all the same basic design, body-styling, running gear and suspension with the A40, the A50's engine was the definitive 1,489cc 50bhp version of the new B-Series design, and like the 1.2-litre version used on the A 40, was equipped with a downdraught Zenith carburettor.
The  A50's gearbox was also identical to the A40,  but because it was more powerful and more torquey than the  A40's smaller engine, it was tuned to the higher final-drive ratio (4,875:1 instead of 5.125:1).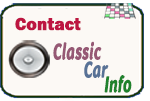 Austin were presumably looking on the A50 tp be a stepin the direction for better things to come. During the car's production run introduced a number of  mechanical improvements.

These improvments included providing the option of fitting a Borg-Warner overdrive (available from early 1956), for the top three (of four) gears which BMC aligned to the 5.125:1 final drive of the A40.

This permutation was drawn from that which was already offered by Austin on their A90 Westminster.


To add to the driving experience, the overdrive could be transfigured so that it would cut-in automatically when the road speed exceeded 32mph, in either second, third or top gears.

As it appeared that Austin were beginning to wind down production of the Austin A50  Cambridge in 1956, BMC  surprised everyone by introducing a number of updates for the coming season.

These included fitting smaller, 13in road wheels as well as providing the option of Manumatic transmission (a form of two-pedal control).

It didn't take too long for the motoring media to fathom that these developments were in actual fact to be BMC's way of introducing new innovations "under the radar" for their new Cambridge version, the A55 model to be introduced the following year.
As had been widely predicted in the motoring media, production of the Austin A50 Cambridge was discontinued in 1957 with the immediate launch of the A55 model, which was, in fact, a re-engineered version of the A50 itself.
Got a question, a comment, a suggestion or an offer??? - FEEL FREE TO CONTACT US ANYTIME!!
A guide to acquiring, restoring and maintaining UK or European Classic Cars of the Fifties and Sixties- as well as a recollection of the iconic cars of the era and the visionaries that produced them.
&Take me back to the home page