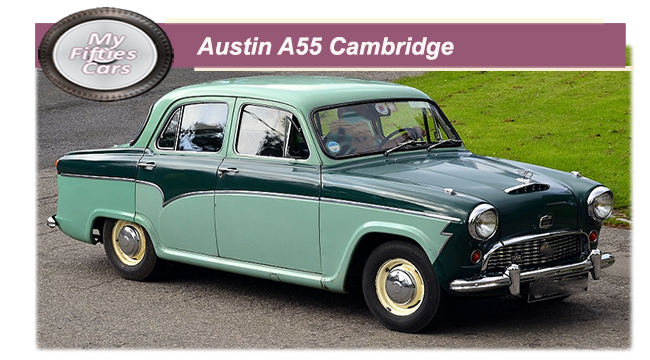 In 1957, With the winds of change blowing rapidly throughout BMC, both the A40 and A50 versions of the Austin Cambridge were discontinued to be replaced by the A55.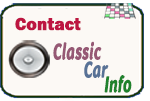 The Austin A55 Cambridge bore a very strong resemblance to its predecessors as far as body there was concerned,  with the only difference being small set fins on the rear wings, a slightly longer boot and a considerably larger rear window.

Mechanically the A55 was almost identical to the A5O apart fom its floor-mounted gearshift, with Austion doing away with the much-mailgned dashboard-mounted option found on the A50.


Apart from that major mechanical change, the Austin A55  Cambridge was nothing more than a simple remodelling of its predecessors, powered by the same 1489cc B-series engine used in the A 50,  although with a higher compression ratio of 51 hp (38 kW).
Apart from the addition of a SU carburettor, the A55 was little more than an interim model until the launch of the  Mark II, being designed for Austin by Italian auto designers Farina.
I
n January 1957, the A55 Cambridge was introduced to replace the A50 model. It used the same 1.5 LB-Series engine as its predecessor at 4250 rpm was now available.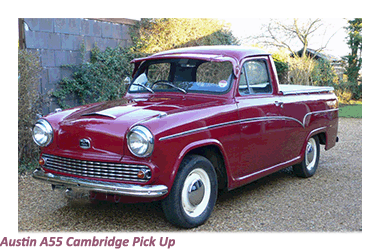 The yardstick of Austin's tremendous popularity during the Fifties was that 154,000 of the A 55 Cambridge were produced in the two years that the model was in production, till it was discontinued to the replaced by the eagerly awaited  Pininfarina-designed A55 Cambridge in 1959.


Despite the saloon version being eased out of production, Austin continued to produce both the van and pick-up versions until 1973. with these offshoots remaining steadily in demand until they were finally withdrawn.