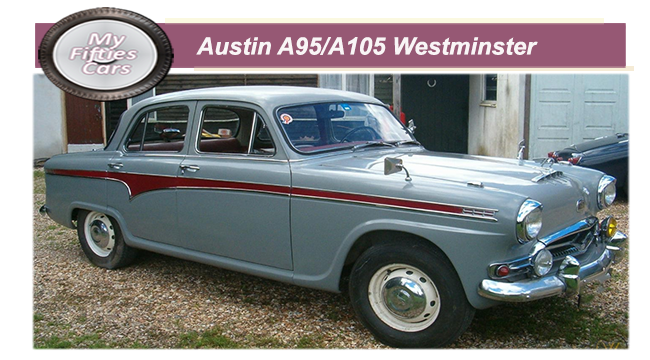 Using what became a typical marketing manoeuvre at BMC, Austin discontinued the A90 Westminster and almost simultaneously launched the A95 and A105.

The Austin Westminster series of large, luxury vehicles were introduced late in 1954, as a replacement for  the A70 Hereford.
The Westminster line  was produced in five  variations of model  options from the  A90, up  to the  A110.   Badge-engineered versions of the Farina  designed Westminsters were also produced under the  Wolseley and Vanden Plas marques.
The A90 Westminster had been in production for less than two years and was proving to be a steady seller when BMC made the surprise announcement that it was to be discontinued.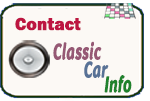 With no new models in the pipeline, the marketing team at Austin must have felt that some kind of revamp was needed, especially in the face of intense competition they were experiencing in the medium to large saloon niche.  

BMC offered all of the Westminster with the option of two tone paint and white wall tyres, a combination more suited to the entry level A95s and A110s. Both of the Westminster upgrades had a longer wheelbase supporting a longer tail style, a larger rear window, a squarer rear wing line and a new grille.
/Mechanically the A95 gained a little extra power, although those drivers with a "need for speed"  may well have been drawn to the  A105, which had been fitted with a twin-SU carburetor/102bhp version of BMC's highly successful 2.6-litre C-Series engine.
The A105 also gained a lowered suspension, Borg-Warner overdrive (operating on top and third gears - but, unlike the A90, not on second gear) overdrive as standard.

For those who really wanted to put on a show a two-tone paint finish was now available as well as Transatlantic-style whitewall tires, a redesigned grille, new wheel trims and different decorative treatment along the sides.

That same year automatic transmission also became an optional extra for both configurations.
From the spring of 1958,  the A95 and A105 also offered an optional floor-change control. Enjoying a run of relative success, BMC introduced the A95 Countryman, a four-door estate car version of the saloon, incorporating a horizontally split rear door arrangement.

After that minor Renaissance, the Austin Westminster A95 and A105  remained in production, virtually unchanged until the spring of 1959, when the models were finally phased out ahead of the launch of the new Farina-styled A99 range.